Spanish Bluebell *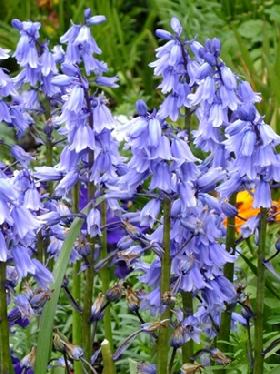 The Spanish bluebell is a spring bulbous plant. It is native to the Iberian Peninsula. It belongs to the lily family. It is found in the northwestern Europe- Italy, Spain, Portughel and also in the Mediterranean region. It is a perennial plant that blooms in the spring season. It has around 11 species and is of genus Hyacinthoides. It is scientifically named as Hyacinthoides hispanica. One of the drawbacks of planting the Spanish bluebell is that in some parts of the United States, the Spanish bluebell has been regarded as a threatened species due to its invasive nature. One of the use of the Spanish bluebell is that some gardeners cultivate this plant as a garden plant. It appears in shades of blue, pink and white. This pretty flower in not fussy about light and soil, grow in any type of garden. It is inexpensive and a good plant for cutting. It reproduces through the small baby bulbs developed from the mother bulbs. They also produce seeds and grow from seeds. They grow in the open environment and not in the dense wood. The flowers appear from the straight stem.
Scientific classification:
Kingdom: Platae
Clade : Angiosperms
Clade : Monocots
Order : Asparagales
Family : Asparagaceae
Genus : hyacinthoides
Species : H. hispanica
Binomial name: Hyacinthoides hispanica
Flower: Just as the name suggests, the Spanish bluebell produces beautiful, fresh colored blue flowers and is bell shaped. In fact it is a lavender color with blue highlights. Blue is not the only color available for this type of plant for there are pink bluebell (rosabella) and white bluebell (white city) as well. The flowers bloom from an erect stem. It produces little or no scent at all.
They also produce seeds, allowing them, over time, to fill in and create ever larger patches of spring brilliance. Great plants for difficult garden sites, just think how
Planting: The Spanish bluebell is not a fussy plant. The best time to plant this plant is after the summer has faded away or during the early fall. Plant the bulbs about two inches deep in the soil. Make sure to water the bulbs during the fall and also during the winter months. It is a good suggestion that you plant this plant under the tree, shady borders or also under the shrubs.
Care: It is suggested that we plant this plant in a well-drained soil. Let the plant receive some amount of light. Once the flower starts to grow old let the leaves die off on its own.
Uses: The bluebell produces glue that can be used in binding books. It also starch that can be used as starch clothing.
Common bluebells yield a glue that has historically been used for book binding and to stick flights to arrow shafts.
The bulb yields a starch that has been used to starch clothing.
The bulb can be used in case of snake bites.
Traditionally, they are the first spring flowers. So, they are thought to represent rebirth and is planted in the graveyards as well.
Summary: The Spanish bluebell plant grows well in a well drained soil. It is not a fussy plant- it grows well in part sun, partly shade and in full sunlight as well. It is a spring bulbous plant of height 6 to 12 inches depending upon the size of the bulb. It has approximate width of about 6 inches. Its bloom comes in blue, pink and white in color. It has a seasonal feature of spring bloom. It is deer resistant, it helps control soil erosion, it is drought tolerant and is a good groundcover. Like most of the other plants it propagates through division method.
Click Here

to get this flower bulbs for free.