Iris
To get this flower bulbs for free.
Click Here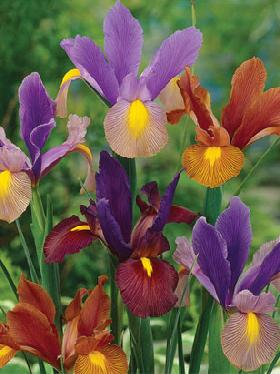 Iris is a beautiful flower having around 300 species. It is the largest genus belonging to genus family Iridaceae. It is a bulbous flower. The word 'iris' is derived from the Greek word meaning rainbow. It is a popular garden flower, it is commonly named flags, junos or even iris. Iris is often taken as a perennial plant growing from a rhizome or a bulb. This plant requires full sun and well drained soil. This ornamental plant is commonly planted at home and in the botanical gardens. Iris is a spring blooming plant or February birth flower herbaceous perennials. Thus, it is best to plant the bulb in the autumn so that they are fully matured enough to bloom once the spring season in full show. The bloom is beautiful and breathtaking. As the bloom starts to fade away and the foliage dries off, leave the plant on its own.
Quick facts:
Botanical name: Iris Germanica
Plant type: flower
Exposure: full to partial sun
Soil type: loamy soil, sandy soil or any soil types
Flower color: blue, orange, purple, white, pink, red, multicolor
Bloom time: summer or late spring
Iris color with its meaning:
Iris belongs to the family iridaceae. The name iris is considered both the common name as well as scientific name. The name iris is derived from the Greek word meaning 'rainbow'. Similar to the rainbow, irises appear in variety of colors such as pink, yellow, orange, white, purple, blue lilac, reds and even purple brown. Iris has the meaning of faith, peace, wisdom, friendship and hope. The purple iris symbolizes wisdom and good compliments. Yellow iris refers to passion. Blue iris symbolizes hope and faith and white iris for purity. Iris has the meaning of love, romance, courage and admiration.
Scientific classification:
Kingdom: Plantae
Unranked: Angiosperms
Unranked: monocots
Order : asparagales
Family : Iridaceae
Sub family: Iridoideae
Tribe: irideae
Genus: Iris
Type: iris germanica
Synonymns:
Belamcanda
Hermodactylus
Iridodictyum
Juno
Junopsis
Pardanthopsis
xiphion
The following are some of the subgenera of the iris plant:
· Nepalensis (bulbous iris)
· Scorpiris (smooth-bulbed bulbous iris)
· Iris (bearded rhizomatous iris)
· Limniris (bearded rhizomatous iris)
· Xiphium (smooth-bulbous iris)
Description: Iris is a beautiful flower and has magical lots of colors. It is an easy to grow plant and attracts butterflies and humming birds. They are perennial to some parts of the world. This tall beautiful iris comes in around 300 species.
Iris types: There are two major types of irises namely rhizome irises and bulbous irises. They consist of varieties, hybrid, cultivars and species.
Rhizome iris: Rhizome iris have thick stem, grow horizontally and grow partially underground or underground. The roots and plants both grow from the rhizome. bearded iris, beardless iris and crested iris popularly falls in this category.
Bearded iris: There are various kinds of bearded iris; they are classified into Dwarf, tall or Aril. The most commonly found bearded iris are hybrid iris such I.germanica, Iris aphylla, I.pallida (hybrid of Sweet iris), I. variegate (Hungarian iris) and median forms of iris such Iris pumila.
Cultivation of Bearded iris: The cultivation process of bearded iris is easy. It is a popular form of garden iris. They are planted in the late summer as bare root plants. It is planted with the rhizome visible on the surface of the soil and facing the sun. It is suggested that the rhizome ought to be divided every once in three year interval.
The following are some of the popularly known irises:
Alizes (tall bearded blue and white)
Bumlebee Deelite (miniature tall bearded, yellow/purple)
Titan's Glory (tall bearded, deep blue)
Maui Moonlight (intermediate bearded)
Early Light ( tall bearded, pale blue)
Langport Wren (intermediate bearded)
Sarah Taylor (dwarf bearded, pale yellow)
Jane Phillips ( tall bearded, pale blue)
Raspberry Blush (intermediate bearded, pink)
Bulbous iris: Bulbous iris grow from bulbs. It is smaller in size and the bloom is also small in size. The bulbs require a period of dormancy after the bloom. Bulbous irises are classified in three: the English and Dutch iris, reticulate iris and Junos iris. The commonest of all is the Dutch iris.
Leaves: This specie of plant has a sword-shaped leaves that grows in large clumps. It is cylindrical and basal shaped.
Flower: Iris has a fan shaped flower. It contains one or more symmetrical six-lobed flowers and three sepals. Iris appears in different color spectrum such blue, red, pink, orange, yellow and white breed.
Habitat: Iris is a beautiful flower commonly found in the temperate northern hemisphere zones. It includes Europe, Asia and some places across Northern America. This specie of plant is found in various places such as desert, semi-desert, grassy slopes, meadows, bogs, river banks and even in cold rocky mountainous areas. Thus, we can conclude that iris is found both on land as well as in river.
Iris is native of Southern Europe. It is also found in Italy, England and Morocco. This plant is a not a lover of moisture. April is the best month to plant iris.
Cultivation: In case of garden cultivation, irises are planted as bulb iris or rhizome iris. The cultivation needs of iris vary according to the geographic origin and genetic diversity. Iris is not a fussy plant in case of plantation. It grows well in any most garden soil types making sure that the soil is well drained. It can be planted from a bulb or a creeping rhizome. It grows from divided clumps too. As per the research performed, I.junonia and I. reichenbachii grow as early as February to March in the Northern Hemisphere followed by I.pumila, German Iris, Sweet Iris, Hungarian iris, Lemon yellow iris etc.
There are certain things to keep in mind while you are in process of planting iris. The iris need to be planted 1 to 2 feet apart. It requires at least half day sun to full sunlight and well drained soil. They fail to bloom in the absence of less sunlight. The plant requires some amount of fertile, neutral to acidic soil. The best time to plant iris is from mid to late summer. Bearded iris need to be partially exposed to the sunlight and the soil need to be thinly covered with soil. Provide the plant with enough water and a low amount of nitrogen fertilizer.
Care: Upon knowing that irises are beautiful and helpful, there are some ways in which we can take care of them. The following points need to be kept in mind while dealing with iris at home and in the nursery plantation.
1) Unlike other bulbs, the rhizomes of iris needs some amount of sunlight and must not be overcrowded by other plants else they end up rotting.
2) One must avoid using high amount of nitrogen fertilizers for it encourages early rot.
3) It is best suggested by all the gardeners to avoid trimming of the leaves for they are rich in photosynthesis and helps in the upcoming year's growth.
4) It is best to replant the rhizomes after 2 to 5 years so that the plant can produce good bloom.
Characteristics: Although there are more than 300 species of iris; they possess similar kind of characteristics. Irises are herbaceous perennials having soft, green stems, blooms of various colors depending upon the specie and are easy to cultivate. Irises have six petals. They easily grow on land as well as in the river and are mostly regarded as temperate perennial.
Uses: Irises have numerous uses. Iris flower is used as liver purge and the juice extracted from the iris is used to remove freckles from the skin. The fresh roots of Germanica is useful in treating lungs disease, cough and hoarseness. The essential oil from iris plant is used in aromatherapy and also in making perfume. Iris is a big attraction to the viewers for its beauty and the feeling of peacefulness. They are planted in the home gardens as a garden decoration.
Iris flower is considered poisonous especially when ingested and it is best to keep it away from the children. Iris has several other cosmetic uses such as it is used in making perfume, repair damaged hair, body lotions.
This webpage is in google search result in iris flower bulbs.
Click Here

to get this flower bulbs for free.